The Evils of Communism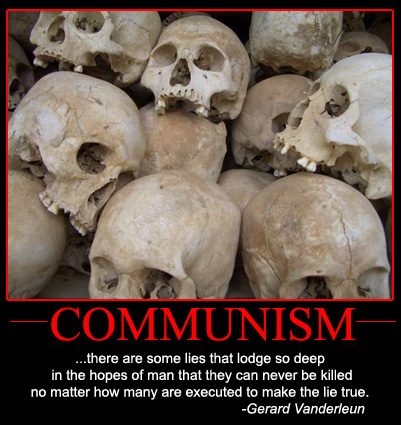 Communism has NEVER been established upon faith in God; but rather, upon faith in the government. Without an oppressive government to regulate everything, brainwash children through public schooling, and heavily tax it's citizens; men naturally tend toward capitalism and freedom. Communism is the end result of an immoral society that abandons God.
Communism is of the Devil, an unjust economic system that rewards the lazy and punishes the diligent. To give jobs, healthcare, education and other forms of public aid to ILLEGAL immigrants is Communism. They have no rightful claim to the wealth of hard-working American citizens; but the Communist U.S. government steals it from us to give to them. Illegal immigrants ought to be apprehended and punished by law.
Not only has our government betrayed us by allowing ILLEGALS to flood into America by the millions, and rolled out the red carpet for them by providing all sorts of public assistance, but recently the Bush Administration gave $1,000,000,000 to Mexico. Yet, American citizens are harassed for every penny they owe the IRS. When does the treason stop? America is being subverted from within. Our "elected" politicians are sworn to the destruction of America; yet, they have fooled us with their rhetoric into believing that they love America. Liars!
The recent bailout of the housing market by the U.S. government is Communism.

In spite of the bail out, one million Americans still lost their homes last year.

This is madness!

The trillion dollars spent on the war in Iraq could have purchased 4,000,000 American homes at $250,000 each!!! The recent real-estate fallout is all a big scam intended to broaden the government's control over America's housing market.

The first plank of Marx's Communism is the abolition of private property

. James Bovard has wisely stated...
"Government cannot control property without controlling people. Every extension of control over property means a decrease in citizens' ability to rely on themselves and plan their own lives' We face a choice of private property or political subjugation."
Our Washington politicians more than doubled the American national debt in one weekend for a bunch of crooks and incompetents

. That money is coming out of taxpayer pockets! The resulting government can only be Fascist.
James Bovard further states...
"Private property marks the boundary between the citizen and the State. The degree of respect the State shows for property rights will largely determine how much privacy, autonomy, and independence the citizen has."
One doesn't have to think too hard to realize where America is headed when the government gets into the property business. Woe unto America.
In the end, Communism stifles ambition, confiscates wealth, discourages personal endeavor, rewards the undeserving and undermines society. Communism sounds great in theory; but in reality, the only way one can succeed without sacrificing is if someone else sacrifices without succeeding. There are no free meals in life, someone has to pay.
"A free lunch is only found in mousetraps."
- John Capozzi
Despite The Beatles retarded hit song, "Back In The U.S.S.R." (boy you don't know how lucky you are!), one-third of all Russians today live on LESS THAN $30 A MONTH!!! Think about that. That's $360 a year to survive on! Does Communism still sound like a great idea? Little-by-little, America's economy is spiraling downward into poverty wages, higher taxes, non-affordable healthcare insurance and skyrocketing inflation. Interestingly, the Communist leaders themselves always live high-on-the-hog. It's the average citizen who suffers. Barack Obama is a rotten Communist and has vowed to implement socialist polices as U.S. President.
Here's what Dr. John R. Rice has to say about the evils of Socialism...
"Private ownership instead of government ownership is Capitalism... The capitalistic system always tends towards freedom and better income as long as more machinery is used and better methods are adopted. On the other hand, the socialistic system always tends to enslave people and bring more poverty and trouble, as it has done already in England and Russia."

SOURCE: Dr. Rice... Here Are More Questions; Question: Are farm co-operatives, farm subsidies, etc., right?; by Dr. John R. Rice, pg. 243, 244, Sword of the Lord Publishers; 1973, ISBN: 0-87398-157-X
Obama may appear as a type of savior to the American people for a time after he takes office; but his socialist give-away programs will ultimately end in a Communist Police State, a failed economy and policies paralleling Communist China today.