Michelle Obama just made the biggest mistake of the re-election campaign. Why? Because she just put the "Story of Their Life", and the narrative of false storytelling, front and center. One Big Mistake, fibber: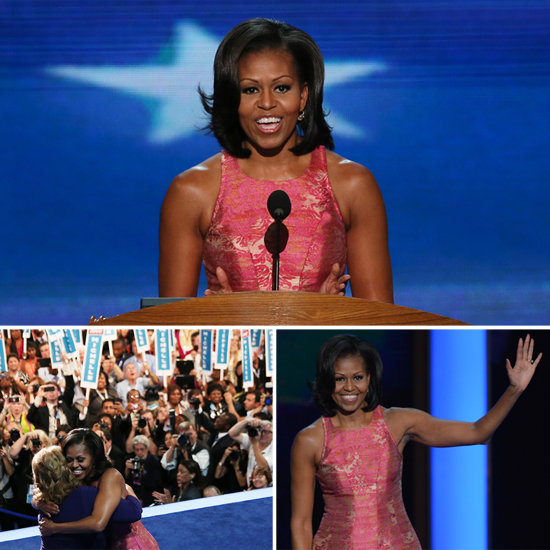 I would not invest the time and energy on it,
yet again
, had she just not made it the primary cause and centerpiece in the re-election effort of her husband. So, well done Michelle, I've got a strong feeling the false story is about to be your undoing. It would not be such, if it were not your primary selling point.
This is not birtherism, his birth is not the question. The false story of his life, which Michelle just put front and center once again, IS the story. It is all lies.
As an example: The claim about Barack's Maternal Grandmother being impoverished as a "secretary" for a bank, whilst hitting a "glass ceiling" could not be further from the truth. It is all False.
Truth: Barack's grandmother was a very wealthy, and well paid, vice-president of an international bank (no glass ceiling there) who was able to leave Barack and Michelle over $500,000 in bank stock when she died, along with numerous other financial interests in her estate. Enought money to purchase the house in Chicago, and work the dirty deal with convicted felon Tony Rezko.
Another example is the claim that young Barack was poor. False. After his mother abandoned him, he attended the most prestigious, exclusive, private and expensive preparatory school in all of Hawaii, Hawaiian Punahou Primary School.
Circa 1972 – Back row 3rd from left – With more than 3,000 students, Punahou is the largest private school in the country, and it sits on a lush, sprawling campus in Honolulu. The school is elite and wealthy. Grandpa was the driving force behind Barry being accepted at Punahou and he took Barry to Punahou for the entrance exams in 1971 and he also accompanied Barry to Punahou on his first day of classes in 1972.
Another example was the claim that Barack, and Michelle, were saddled with college loans. False.
The truth is Barack Obama rec'd a full scholarship, books and tuition, to Occidental College after his prep school years.
"Full Ride".
Now it is factually truthful that Barack walked away from that "full scholarship" after he went to Pakistan for a year, and then mysteriously reappeared in New York to attend Columbia. So student loans for ONE year at Columbia could be potentially accurate.
However, his Harvard Law school was paid for by a sponsor several years later. Obama graduated from Columbia College in 1983 at the age of 21, and after spending a year in New York, moved to Chicago. The timeframe from May/June 1983 through 1984 he remained in New York. Returning to Chicago sometime in 1984 until he attended Harvard Law School in 1988.
How exactly did Barack Obama pay for his Harvard Law School education? –
The way the Obama campaign answered the question was simply hard work and student loans, even though Obama's financial disclosures found no trace of any outstanding college loans, going back to 2000. Michelle Obama contradicted this claim by saying that the couple had "only just" paid off their student loans after receiving book royalties paid out in 2005 and 2006.
But questions were raised about Obama's student loans and Obama's ties to a radical Muslim activist who reportedly was raising money for Obama's Harvard studies during the years 1988 to 1991. The allegations first surfaced in late March 2008, when former Manhattan Borough president Percy Sutton told a New York cable channel that a former business partner who was "raising money" for Obama had approached him in 1988 to help Obama get into Harvard Law School.
In this
video interview
, Sutton says he first heard of Obama about twenty years ago from Khalid Al-Mansour, who Sutton described as advisor to "one of the world's richest men," Saudi prince Alwaleed bin Talal.
Prince Alwaleed catapulted to fame in the United States after the September 11 attacks, when New York mayor Rudy Guiliani refused his $10 million check to help rebuild Manhattan, because the Saudi prince hinted publicly that America's pro-Israel policies were to blame for the attacks. Sutton knew
Al-Mansour
well, since the two men had been business partners and served on several corporate boards together.
As Sutton remembered, Al-Mansour was raising money for Obama's education and seeking recommendations for him to attend Harvard Law School.
"I was introduced to (Obama) by a friend who was raising money for him," Sutton told NY1 city hall reporter Dominic Carter. "The friend's name is Dr. Khalid al-Mansour, from Texas."
Obama released
seven years of tax returns on March 25 of 2009
. The returns, dating back to 2000, indicate that the couple paid no interest on their student loans. The interest from such loans would have been deductible on their joint income tax returns. For 2000 through 2004, taxpayers declared student loan interest as a deduction on line 24 of federal form 1040. After 2004, the deduction can be taken on Line 33.
But the Obamas never declared a dime of interest in student loans on their return.
The Student Loans –
Michelle Obama
tells of the collection calls
they used to get from the "loan debt people." Mrs. Obama clearly implies that the family's hardship was caused merely by living in this hellhole that is America, usually right after she mentions their onerous student loans.
How do you like being Lied To America?

– And what exactly does this tell you about the character of Michelle and Barack Obama?
However, the Obamas have thus far refused to validate these stories of loan collection, despite requests from Chicago papers, or the source of the debt. Obama's personal loan of $20,000 to his failed Congressional race seems like a very likely culprit for any loan collection calls they might have received. Thus, the Obamas should provide the financial records that validate their claims about bill collector calls, if they exist, and be honest about the source of the debt. Certainly, the loan itself gives lie to the Obamas' stories about their financial hardship due to their being "just regular people;" regular people don't loan themselves large sums of money for rash and obviously doomed congressional races.
The most trivial, and yet in many ways the most revealing, of the Obama campaign distortions involves their incessant invocation of their school loan burdens. Yet the Chicago Tribune has asked them to produce evidence of their school loans and they never complied. Tellingly, they made too much money since 2000 for their loan interest to be deducted, so they can't even prove that they finally paid off the loans in 2003, as they constantly claim.
Obama received a full scholarship to Occidental, which he abandoned after two years in favor of Columbia. He left Occidental after his Soph***re year (spring 1981), took a trip to Pakistan, then reappears at Columbia College (fall 1982). Did he get any similar deal for the year at Columbia? What grants and loans did the Obamas receive while at Harvard?
Again, these may seem like trivial amounts, or trivial questions. However, the Obamas have consistently presented their life story as a rags to riches tale in which they triumphed over the odds just like ordinary people. But they've offered no proof, actually the known facts -as few as they are- dispute the claim completely. Given Obama's career reliance on patronage and kingmakers, the reality may be considerably different from their touching campaign anecdotes.
Look for yourself: Everything she just said at the DNC convention about the life story of Barack Obama is fabricated nonsense. Wake up people!