Smoking Gun: Gov't moles alerted investigator of planted Obama birth certificate 2 months before release
Aaron Dykes & Alex Jones
PrisonPlanet.com
May 24, 2011
Speaking today on the Alex Jones Show, investigative journalist Jerome R. Corsi dropped a huge bombshell. Dr. Corsi provided proof that he was alerted to an on-going plot to release a
fake
more than two months before President Obama released his purported long-form birth certificate.
Corsi supplied Infowars.com with time-stamped Microsoft Word documents [
.ZIP
] of five unpublished World Net Daily investigative drafts, written between February 23 and February 24, 2011, two months before Obama's April 27 birth certificate press conference. The unpublished reports confirm that moles inside the Hawaiian State government, including one inside the Department of Health, had warned Corsi of a plan by Obama operatives to plant and then publicly release a forged birth certificate.
The veteran investigative journalist released more details during a live appearance today, two hours and 8 minutes into the three hour broadcast.
LISTEN TO THE INTERVIEW
HERE
:
Three weeks before the April 27th Obama press conference, Corsi was contacted again by his informants, who had been keeping a close eye on the birth records. It had happened. Prior to April 2011, there had been no Barack Obama birth certificate in the sequentially numbered book, but as of early April, it had suddenly appeared in the records.
Remember, in January 2011, Hawaiian Governor-elect Neil Abercrombie
had told reporters
that he was unable to locate President Obama's birth certificate, but a few months later it had magically appeared. Now here's the smoking gun bombshells:
#1 Corsi has witnesses inside the Hawaiian government
that accurately called what was going to happen, and who can be called as witnesses
once Corsi files his criminal charges
with the FBI.
#2 Obama Took the Bait
– World Net Daily publisher Joseph Farah and investigator Jerome Corsi
are on record
via e-mail and in front of staff discussing the fact that the moles had warned them of the planted birth certificate, and the plan to roll it out. Farah and Corsi again decided, as they had done with their earlier February 24 report, to not go public and let Obama commit himself openly to the forgery.
Corsi is preparing to release even more information to the press in the coming days and weeks. But to recap, World Net Daily has the proof that months before Obama rolled-out his supposed long-form birth certificate, WND.com knew that the birth certificate was indeed not there but would soon be planted. The initial intel from February indicated a plan by Democratic operatives to release it as an October surprise for the 2012 election.
The imminent publication of Dr. Corsi's book,
Where's the Birth Certficate
, forced the White House hand to speed up the release. Think about it: after two-and-a-half years and $2 million in lawyer fees to stonewall the release of the birth certificate, President Obama sent his lawyer to Hawaii to suddenly produce it. This timeline only adds additional credibility to the account put forward by Corsi.
Add to all of this the fact that the
Kenyan government has now released
two new documents confirming that the U.S. ambassador to Kenya under George W. Bush requested information on then Senator Obama's birth records in Kenya. In the government letters we discover that the Kenyan government carried out an investigation searching for the birth records and confirmed that the documents had been criminally removed.
Below is the unedited fifth draft from February 24, 2011 unpublished World Net Daily story covering the intent to plant a forged birth certificate in the Hawaiian Health Department records or
click here for a ZIP file
of the original drafts. Directly below is a screenshot of the Microsoft Word timestamp confirming that it was written February 2011.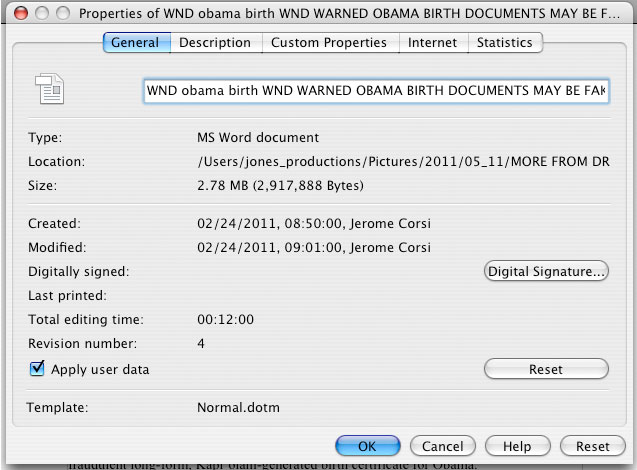 ————