'Impeach Obama' booth on West Main draws supporters and code enforcement
Submitted by Howard Owens on June 5, 2014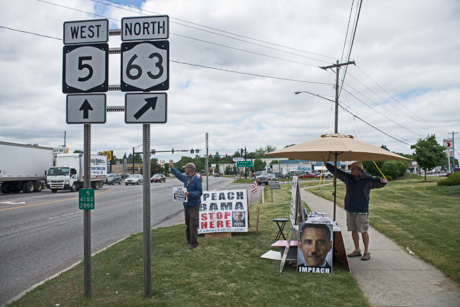 Two men from New Jersey stopped in Batavia today to gather signatures from people who agree with their "Impeach Obama" message. They were also gathering signatures on a petition to reinstate the Glass-Steagall Act.
Art Murphy and Chris Sare, from Bogota, N.J., said their goal is to visit every congressional district. They've been to Florida, Texas, California, among other places.
There were set up on West Main Street near the eastern entrance to the Tops parking lot.
The funding for their travels comes primarily from the LaRouche PAC.
Quite a few people stopped to sign the petitions.
They also got a visit from Batavia PD and the city's code enforcement officer.
City code prohibits any kind of sign in parkways. If it's planted in the ground, no matter what the message, it's illegal under city code.
Police responded to a citizen complaint about the signs.
When Code Enforcement Officer Ron Panek arrived, he showed them the section of code they were allegedly violating.
Murphy asked how to contact the city attorney. He said there are court cases that give them the right on public property to conduct political protests. He said they would follow up, but said they would obey the orders of the police.
Once the signs were down, the Sgt. Dan Coffey and Panek left, leaving Murphy and Sare to carry signs up and down the sidewalk if they wished. As they left, even more people were stopping to sign petitions.